Design Your Dream Kitchen With High Quality Modular Metal Cabinets
No Uppers?
No Pantry?
No Problem!

Like your
fridge & stove
Can-Am
kitchen
cabinets are made of steel for durability, dependability and strength.
Can-Am is a leading manufacturer of high quality metal cabinets. You will find Can-Am in homes and businesses all around the world. Since our inception in 1979 our mission has been to produce metal cabinetry that changes the way people view metal. Below is a presentation of our concept. If you like what you see - you will love what you receive. We will exceed your expectations. We have combined form and function for the ultimate kitchen. In a world of compressed sawdust and glue, we bring you lasting quality and beauty. We are known for our outstanding customer service, extensive packaging and exceptional quality. We look forward to serving you and thank you for your consideration.
Eco Friendly & VOC Free & Very Cool


Can-Am cabinets are made of steel. Nothing is stronger or more durable and since steel is completely recyclable your cabinets will never end up in a landfill. The rich powder coat finish is also VOC free and hypoallergenic. That means no gases emanating from your cabinetry. No VOCs.

Can-Am cabinets are available in a wide range of modules so get out your wish list and design your kitchen island and cabinetry. Your dream kitchen is closer than you think. In fact you could be using it in as little as two weeks.

With Can-Am Cabinets, you get what you want, anywhere you want it. Bar style, back to back or along a wall. You can even have it on wheels. Imagine a pantry you can actually take with you when you move. That's the way you will feel about Can-Am cabinets - you'll want to take them with you.
There Are Many Modules Available. Here is a small sampling.

We have a full line up of modular cabinets in both 37.75" widths and 23.5" widths. This provides even more options for being creative with your design. If you look closely at the picture at the very top of this page you will see that both the standard and narrow width cabinets were used in the island design. Here is a small sampling of popular kitchen modules to get you started.
(Click on any item below for more details)
MC2D14 (Series 14)
2 Drawer module with 6" high drawers
37.75" W x 14.5" H x 20" D

COM3D14 (Series 14)
Two 6" high drawers & one 12" high drawer
37.75" W x 14.5" H x 20" D

HFCAB14 (Series 14)
2 Drawer module with 12" high drawers
37.75" W x 14.5" H x 20" D

MC3D20 (Series 20)
3 Drawer module with 6" high drawers
37.75" W x 20.5" H x 20" D

CH2D20 (Series 20)
One 6" high drawer & one 12" high drawer
37.75" W x 20.5" H x 20" D

MC2D20 (Series 20)
2 Drawer module with 9" high drawers
37.75" W x 20.5" H x 20" D

Pullout Cabinets have a series of slots that accept our optional shelves and mini drawers. Sliders or brackets snap into slots in the cabinet, shelves and drawers snap onto the sliders or brackets.

FDCAB20 (Series 20)
Flip-door Pullout Cabinet
37.75" W x 20.5" H x 20" D

(Series 35) CABDR35 Pullout cabinet
Sized like a series 14 and 20 combined
37.75" W x 35" H x 20" D
How do Can-Am Cabinets Stack Up?
Any Series 14 cabinet with any series 20 cabinet will combine to a height of 35 inches. Add your top and you are at ideal counter height of 36". Keep in mind that all modules have adjustable levelers to ensure your entire setup is solid and level. The leveling feet can also be used to provide a bit more height.

Pictured here is a CABDR35 next to a MC2D14 (outfitted with a single 12 inch high drawer) on top of a CH2D20 with the 12 inch drawer on top. Most combination drawer modules can be reversed or substituted.
Your Only Limit Is Your Imagination
| | | |
| --- | --- | --- |
| | | |
Can-Am Cabinets Are Available in 18 Colors To Match Any Decor
Cabinet Colors

Chocolate
Brown
Hunter Green
Beige
Director Red
Antique White
White Gloss
White Satin
Fog Gray
Metallic
Silver Satin
Metallic
Steel Gloss
Black Gloss
Textured
Teal Blue
Navy Blue
Steel Blue
Plum
Storm Gray
Charcoal Gray
Black Satin
Colors are not always represented accurately on your computer screen. Feel free to request color samples and we'll send out actual powder coated metal samples. Can-Am cabinets are available with or without locks. There is no additional charge for locks. We display the cabinets here to show you what the cabinets look like with the locks. Often customers will order some cabinets with locks to keep certain items out of reach of children or for rental purposes.
What Makes Can-Am Cabinets So Special?
When it comes to kitchen storage solutions, Can-Am is the perfect marriage of function and form. Solid steel construction and a deep rich powder coat finish. Drawers with full extension heavy duty ball bearing sliders that effortlessly carry as much as a hundred pounds of pots and pans and chinaware and groceries. It's the attention to detail. The available colors and modules. The over thirty years of fine cabinet making experience. It's Can-Am.
| Pictures Click a small picture | |
| --- | --- |
Glassware
Silverware
Appliances
Pots & Pans

Large
Appliances
FDCAB20
Closed
Laptop
station
Overhang
For Stools

Compact &
Moveable
Etc. Etc.
Etc.

Featured On Cityline...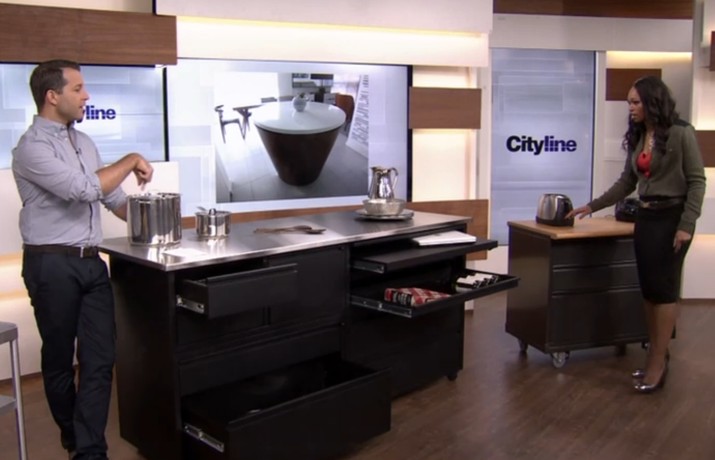 How Do You Top Can-Am Cabinets? Any Way You Like!
Can-Am produces stainless steel counter tops and they are relatively lightweight so we can ship them anywhere. We can produce them to fit most rectangular configurations. Stainless steel tops are form fitted and feature a 1" perimeter lip on all sides. They don't add any height to the setup. Stainless steel is the ultimate kitchen work surface and does not give off any gas or VOCs.

The stainless steel top featured in the photo below is 77.5" long by 42" wide and is priced at $575. Please contact us regarding pricing on other sizes.

If it is granite or quartz you want, you should get them from a local supplier. We can work with you to determine the exact size. We also produce mica tops. Once you are satisfied with your setup, you can select the best top for your application.

Affordable Luxury

Can-Am cabinets are beautiful, functional, durable, and affordable.
Can-Am Kitchen Islands & Cabinets

Call us at 800-387-9790, or Email us: mail@can-am.ca
CD / DVD Storage | Electronics | TV Stand | Home Theater | Computer | Desk | Lifestyle | Archive | Home / Office Solutions | File Cabinets
Products | Condo Cabinetry | Testimonials | Features | Photos | FAQs | Prices & Specs | Colors | Etc | How To Order | Contact | Home