Dropped Something Behind The Drawer And It Won't Close?

Removing the drawer is easy enough.
1. Empty the drawer completely.
2. Pry the four slider support tabs (two on each side of the drawer) away from the drawer gently with a flat screwdriver, just enough to lift the drawer straight up and off the four support tabs.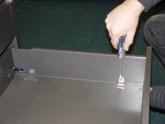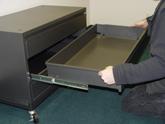 Before reattaching the drawer, check that the sliders retract completely and the other drawers open. If they don't, you may have to rotate the cam at the rear of the slider to allow the slider to retract completely.
Rotate The Cam If Required
Use your finger to rotate the oblong plastic cam at the rear end of the slider, counter clockwise, a quarter turn, such that the slider then retracts fully and the other drawers open. This device is part of the safety interlocking system.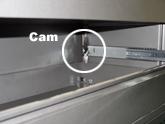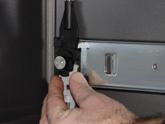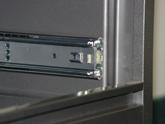 To reattach the drawer simply reposition the drawer on the slider support tabs and with the palm of your hand gently snap the drawer back down.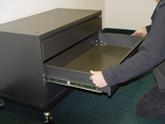 That's It!
CD / DVD storage | AV | TV stand | computer | cabinetry | desk | lifestyle | archive | files | home / office solutions
products | prices & specs | photos | features | FAQs | configs | colors | how to order | contact | etc | home